The Blank Book - 10/40 window

Basketo of Ethiopia

Galatians

Cost:£1690/$2950/€2460


Location: Ethiopia, North East Africa
Population: Approx 100,000
Religion: Local Traditional/Christian
Main Industry: Subsistence farming




The Basketo people are located mostly in the south west of Ethiopia. There are a few villages on the western side of the lake.

The Basketo people are friendly, hardworking farmers. They mostly live in grass houses surrounded by crops and also have other lower- lying fields that they walk to in order to grow extra crops. They used to rely on the false banana as their staple (the root is used as a kind of flour). Now they grow many different crops as the land is very fertile and they get reliable rainfall. They are used to walking many miles over hilly terrain to get from place to place.

Cash crops like coffee and cardamom are grown in much bigger quantities now and are helping the people develop their area. A new school and clinic are being built. Children can now go right through their schooling in Basketo whereas previously the high school children had to leave and go to the next town 50kms away.

Over the last 10 years there have been many changes. A new road and bridge means that more outside goods are going into Basketo as well as their cash crops being able to be exported to the capital. Electricity is available in the main town for some hours per day. There is a telephone in the government office.

The people are very hospitable and will always find a way to feed any passing visitor. They are determined to develop their language and have it used in schools.

The people have waited many years and have high expectations that a Bible in their own language would strengthen the rapidly growing church.




Forty years ago the main religion was traditional African animism and this is still active today. However the church has had a dramatic effect on the Basketo people with around 60% calling themselves Christians.

Although the church is big numerically the level of understanding of basic Bible facts is very small. Most of the people are unable to read and have very limited understanding of the language of wider communication (Amharic). As a result the level of teaching is kept simple. The people are eager to learn. Church leaders are very supportive of the translation project.

Help fill the Blank Book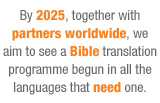 Workers from Africa, Asia and Latin America are stepping forward to take up the responsibilities and challenges of Bible translation in languages in their countries. While many are willing, national translators need help. Training, technical and financial support are necessary for them to succeed. Translated Scripture is checked for clarity and accuracy. The results? Another people group receiving God's message in their own heart language!

The Blank Book enables you to connect with Bibleless people groups around the world. The Blank Book is a way to help you help others by supporting the translation of a book of the Bible into their language.

Every year, the project workers plan ahead and if translation is possible will start one or more books of the Bible. We look for these new starts and through the Blank Book try to get complete funding for some or all those books. Each book will need to be drafted and go through a number of checks with consultants and local speakers. The drafting and checks will take some time, even years. This will vary according to context.

Help fill the Blank Book in the 10/40 window

Look at a Blank Book in Africa

Look at a Blank Book in Asia

Help fill where most needed

The Blank Book - frequently asked questions