The Blank Book - Asia


The 'ET' group of South Asia

1 Corinthians

Cost: £8050/$14500/€11750

Location: South Asia
Population: 760,000
Religion: Traditional
Main Industry: Subsistence farming

The nearly one million "ET" people (name withheld due to sensitive situation) are divided into two groups, and these two groups barely understand each other's language. The New Testament in 'WT' was completed in 1990, but the 'ET' project began offically in 1996.

There are now five 'ET' translators, working under the guidance of an executive committee drawn from church leaders, with some outside help.

An ever-growing body of believers scattered throughout a wide area are in need of the Scriptures in their own language. The population as a whole does not have adequate command of the national language to be able to use the Scriptures in that language for their personal growth in Christ.

There are a number of different dialects within the 'ET' language, and the translation team is made up of men from different areas, working together to select the most suitable translation for maximum understanding.

Support is growing for this project among the community. Continuing instability within the country affects opportunities for checking the translation in village situations. The translation team
go to different churches and villages and check their first drafts with other Christians or villagers who have not yet been exposed to this translation.

In some villages, especially those away from main routes to the towns, the people live in desperate poverty, scratching a living on the hillsides. Literacy rates are low among the 'ET'. The team members are concerned that literacy materials and training should be provided so that there will be a good number in the community who are able to read by the time the New Testament is completed.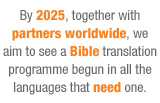 Workers from Africa, Asia and Latin America are stepping forward to take up the responsibilities and challenges of Bible translation in languages in their countries. While many are willing, national translators need help. Training, technical and financial support are necessary for them to succeed. Translated Scripture is checked for clarity and accuracy. The results? Another people group receiving God's message in their own heart language!

The Blank Book enables you to connect with Bibleless people groups around the world. The Blank Book is a way to help you help others by supporting the translation of a book of the Bible into their language.

Every year, the project workers plan ahead and if translation is possible will start one or more books of the Bible. We look for these new starts and through the Blank Book try to get complete funding for some or all those books. Each book will need to be drafted and go through a number of checks with consultants and local speakers. The drafting and checks will take some time, even years. This will vary according to context.

Help fill the Blank Book in Asia

Look at a Blank Book in Africa

Look at a Blank Book in the 10/40 window


Help fill where most needed

The Blank Book - frequently asked questions