The Bible

All of it. In English. And in lots of versions, with lots of choices of notes.


Church leaders

Trained. Experienced.


Books, Internet, CDs

Bible studies, great Christian writings, worship CDs, films, sermon tapes etc.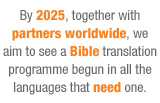 "Over the centuries the major peoples that have most persecuted Christians have been those that were evangelised, but never had the Scriptures in their own language."

Patrick Johnstone, Operation World.